Day One - Modesto to Kernville
Tracking: http://spotwalla.com/tripViewer.php?id=5393
Map: http://www.westcoastmagnas.com/klr65...dv_day1map.jpg

Click Photos For Larger Versions



Loaded the KLR up (after building a tool tube and a rear deck). I had to take my good camera gear and a set of "fancy" cloths including shoes because of the Playmate of the Year Party in Las Vegas (the purpose for this trip). Amazing how much extra room that stuff took.



Stopped off at the dealer to get a couple of spare parts I thought I might want to have in the middle of nowhere (master link, etc.). They got a laugh from my overloaded KLR, but gave a me a few free spare bolts and other knick knacks they thougt I should have. Headed down the highway from there. The first 2 hours I spent on the slab to get some distance put on quickly.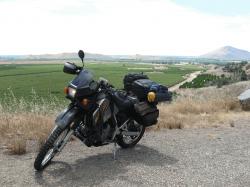 It was a fine and beautiful day when I left the HWY99 for HWY180 in Fresno and headed east and up towards Kings Canyon / Sequoia National Parks. Just starting the climb into the Sierras. Looking back at the orange trees and various other produce grown here in Cali.



These two National Parks are pretty amazing. I didn't have time for riding in Kings Canyon cause of time constraints of getting to the PMOY party in Vegas - so I settled for riding into Sequoia Nat Park and looking across at Kings Canyon.



As I headed for the REALLY BIG TREES you could just see the weather changing (with no mention in the previous nights forecasts - useless weatherpeople). Just a few miles later - it was raining, but only lightly.



Can you see the KLR? Those are some big trees. And right along the road are the baby ones.



A little closer view. I didn't do much touristy stuff cause 1) I've been here before, 2) I was running behind and pressed for time 3) It was cold and raining.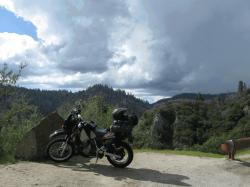 Just another stop in Sequoia NP



Past Three Rivers on 198, lookin back towards Sequoia NP over Lake Kaweah. I planned on taking some fire roads from about this point to about Milo. But I was already running out of time and the two I started on ended at locked gates after about two miles - costing me needed 1st day time. So Yokohl Drive it was.



Once on Yokohl Drive, I was obviously heading back into the weather. Jeans, mesh jacket with windbreaker liner and calf height street riding boots. No problem.

I turned on to HWY 190 heading east into the higher elevations of the Sierras. 190 is a really fun twisty road. I took it kinda slow, cause by now it was raining and the road was getting slick. No problem just a little rain - I rode on. (no pics cause of the rain)

I miscalculated here. On paper, I thought the elevations were lower that it turns out they really are. It's about 6000 ft. and still climbing, raining and I'm pretty darn cold.

I'm just cruising along on a little straight patch of road and here comes a big ol' Caltrans truck - big shovel blade on the front, some sand in the back. He's looking at me riding in the cold rain and gives me a friendly wave, just shakin his head. Must just think I'm crazy.

A mile or two up the road I pass the sign saying "Chains Required" but no snow in sight. It's dripping rain. They must have forgotten to change the sign. The plow was clean and he was heading down the hill. No worries, I pressed on.

A few more miles down the road, the sign says "Pass Closed". Pass? What Pass? I didn't even know there was a Pass near here. Huh, funny. Just keep going cause I gotta get to Kernville (for some reason).

I'm freezing. It's now all out raining while I wind my way up this twisty mountain road - CR107. I suddenly realize there are snow banks at the side of the road. Snow banks? How frickin high up am I? I suddenly dawns on me that I haven't seen a car, truck or even a building in a long time - not since I saw the Caltrans snow plow. Snow plow?

You probably already know what it is that it took me this long to realize - I'm riding across the frickin chain required, closed mountain pass - in summer weight clothing no less. The Snow Plow dirver wasn't giving a friendly wave to the crazy KLR rider. He was trying to tell the idiot he can't go up a closed mountain pass. What a maroon! At least it wasn't snowing.

That's almost exactly when the first flake hit my AFX visor. Just damn peachy. Guess I was a little to focused and slow on the uptake. I just pressed on, figuring it was as bad to go back as continue forward. Eventually the snow banks dwindled.

The snow never did actually stick on the ground. I would have been sweating - but I was freezing to death. And this road seemed to go forever.



The light snow, turned back into simple rain. The then a few minutes later, right about Fairview, the rain stopped - and there was the rainbow.



I just kept heading down the back side of the pass. Lot's of runoff. And the sun was beginning to set. See the KLR glisten - it's all clean - from the freakin rain and snow.

I was gonna camp near Kernville - hell with that - I went motel hunting.



Kern Lodge, with a nice pavered parking area and parking three feet from my front door with a quaint, clean and comfortable room.

I came in wet and cold at 9pm and the nice lady (probably the owner) was wonderful. She asked where I was coming from. I said, I came over from Sequoia, via 190 over some pass and then into Kernville on the 521. Her response, "No dear, I think you must be mistaken. The 190 is closed over the pass. They were planning to clear and have it open for this weekend. But because of the storm they just announced they would wait until next week to open." I described the road and the places I passed like Johnsondale and she agreed, yes, I had riden over the closed pass in the rain and snow. Certainly wasn't my original plan.



So at the end of this great, but cold day, this sweet person at Kern Lodge in Kernville gave me the room at half the normal rate. The room was great and I would definitely recommend the Kern Lodge. I walked 50 yards for a great burger and waffle style fries at the Kern River Brewing Company. They brew some of their own. One of the three I tried was Isabella Blonde - tasty!

Kern Lodge treated me so well, they get a big thumbs up recommendation and some extra pics -
Kern Lodge - 67 Valley View Drive, Kernville CA - 800-924-8817 - thekernlodge.com





Day Two Tomorrow - From Mountains to the High Desert
---
Day Two - Kernville to Ridgecrest
Tracking: http://spotwalla.com/tripViewer.php?id=5393
Map: http://www.westcoastmagnas.com/klr65...dv_day2map.jpg

Click Photos For Larger Versions

My original plan was to ride from Kernville all the way to Las Vegas via a quick trip through Death Valley on this second day. But plans change. There were too many enticing side roads for me as I virtually raced along HWY178. Decided to hit some of the dirt to the left and the right - and stop for the day in the lovely Ridgecrest. Veags could wait for tomorrow.



First thing I did was ride back up the 521 along the Kern River to see some of the scenery I missed while shivering in the dark last night. Notice the beautiful clear skies today.



The view in a couple of directions from a point along the road next to Lake Isabella. I comletely circled the Lake just to check it out. There were tons of small dirt roads leading out from the lake and into the the interior of the lake.



I road out onto a number of these small dirt roads and tracks near the east end of Lake Isabella leading into woods...



plains with rock structures...



and even marshes. I nearly got stuck in a marsh area, and while escaping I rode right into a small sand dune, and nearly got myself sunk in there. Decided it was time to move on.



Moving farther out HWY178 there were numerous "groves" of Joshua Trees past Onyx. They defintely add to the desert perception, although it wasn't that hot.



I rode for aw hile along the Scenic Off-Road Byway, whatever that is. Heading up a dirt road toward Chimney Basin. Signs indicated that I could go 60 or 70 miles down these dirt tracks and wind out in the Sierras again. I may have to go back and do the Chimney Basin adventure.

After riding back to find HWY178, I road the asphalt for a while, just admiring the scenery and ridiculously beautiful day while crossing over Walker Pass.

I came across an off-road riding area, just before reaching HWY14. I think it was called something like Sage Heaven. Anyway, the tracks led up into the Scodie mountains.



I really wanted to get out to the rock spire you can see in the photo. But all the tracks that lead that direction had locked gates and a sign stating, "Raptor Bird Nesting Area - Closed from Jan 1 to July 1" and the subject to $1000 fines got my attention. No trip to the rocks for me, this trip.

So I played out in the dirt a little, kicked up some dust. When I got hungry, I headed into Ridgecest for some food and to find a place to sleep.



Once I had a place to stay and a full tummy, I unloaded most of my stuff and went out to find some local riding. Just outside of Ridgecrest there were many dirt trails going in every direction. I picked some that were supposed to lead to an OHV area.

I never found the OHV area - but I had a lot of fun looking.

This basically completed my Day 2


Next post: Day 3 - Death Valley to Vegas and the PMOY Party

Some of the Playmate Dancers on stage while the White Tie Affair does a few tunes.


.
---
Day Three - Ridgecrest to Las Vegas
Tracking: http://spotwalla.com/tripViewer.php?id=5393
Map: http://www.westcoastmagnas.com/klr65...dv_day3map.jpg

Click Photos For Larger Versions

On Day 3, I left Ridgecrest early and headed out HWY178 / Trona Rd. towards Death Valley. It was a gorgeous day, plenty of sun but starting out cool.



Looking down from the low pass on Trona Road to the openness of the Panamint Valley.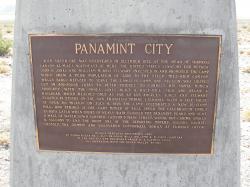 I really wanted to head out into the dirt to see Ballarat ghost town and Pleasent Canyon - but the time frame of getting to Vegas was still affecting my schedule. I needed to get there early enough to get cleaned up and get a little refreshed for the PMOY thing.



The Trona-Wildrose Rd. at the boundry of Death Valley Nat. Park - the less traveled entrance.



The reason it's less traveled - not a great road for the average car and driver. I liked it though.



Up in Wildrose Canyon, where the pavement ends and the dirt leads on to Charcoal Kilns & Thorndike.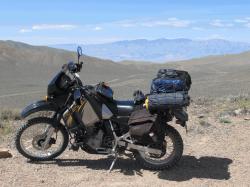 This is 2/10 of a mile from where my 07 KLR odometer hit 10,000 miles. First reasonable place I could stop. Only 3500 of the miles are mine though. This is looking down into Nemo Canyon from Emigrant Pass / Emigrant Canyon Road.



A quick shot of Mesquite Flat Sand Dunes



The Death Valley Visitor Center - which is closing next month for an 18 month renovation. I was told they are tripling the size of the center - but the front you see in the picture can't be changed because it's a Landmark. So all the work will be done on the back side.



Took the quick little side trip to Artists Palette Loop just south of Furnace Creek.

Due to my time issues I has to head right back to HWY190 and move on to Vegas traveling through Pahrump. Couldn't even stop at any of Pahrump's Gentlemen's Clubs.

While heading out 190, a truck coming at me kicked up a huge rock. At least it looked huge as it flew straight at my face. I leaned off to the right of the bike hoping to not get hit. I felt no impact (at least to me) but I heard a huge "THANK". Couldn't see any hit damage, so just kept on to Las Vegas.



I did get to Vegas and the Palms in time to relax a little and make myself presentable for all the pretty ladies at the PMOY Party. (as if it makes some kind of difference)


Next... Pics and some stories from the PMOY thing


---
(Day 4 - I actually spent around the pool in Vegas, some laundry, fixing a rock cracked headlight, little gambling & booze too.)


Day Five - Riding Death Valley - South To North
Tracking: http://spotwalla.com/tripViewer.php?id=5393
Map: http://www.westcoastmagnas.com/klr65...dv_day4map.jpg

Click Photos For Larger Versions

My plan was to spend the day riding in Death Valley from the bottom to the top, checking out some of the touristy spots along the way.

Starting very early (for me), I headed back out HWY160 toward Pahrump. But turned left at HWY178 and headed for Shoshone, the more southern entrance to DV.



The Shoshone entrance - certainly not the most travelled



The flats off of Mormon Point. Right about here the wind started picking up. A lot of wind. I'd say 15mph with upward gusts.



The Badwater Basin from just down the road from the official tourist spot (see below) - the lowest elevation in the USA, blah blah blah



One person way out there wandering around



The most touristy place in Death Valley with the most Tourists, the Official Badwater Basin Viewing area. I decided not to walk out and get my boots all clogged with the white stuff.



The actual bad water gathering at the low spot.



The road to the Natural Bridge, looking back towrd the Badwater Basin. The wind is picking up even more.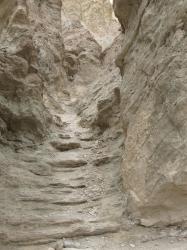 Golden Canyon Interprative Trail (whatever that means). The parking lot is out on this exposed point. The wind is blowing so hard I was concerned about the KLR falling over. I parked it broadside to the wind, so the wind pushed the bike onto the kickstand. As I stood there and watched, the wind would gust and put pressure onto the stand and lift the suspension. The gust would subside and the KLR would rock back nearly upright, teeter, and then settle back to normal. I nearly ran up the Golden Canyon, figuring when I got back from the trail, the KLR wouldbe laying on it's side. It wasn't.

Furnace Creek: In furnace creek they have built a resorty thing. Country store, saloons, 49er Restaurant, cabins, camping, etc. It's done up all glossy, clean and pretty with a faux ol' western theme. It actually seems kinda silly to me. Ultra-touristy. But it seems to work.

While I was there, no less than 4 full busloads of people talking in funny languages were dropped off. And this being at the very end of the "season". I hope these visitors understand this is more like an amusement park than a real western/Death Valley town.

At least, they did have an authentic 20 Mule Team wagon set up out front.

I stopped and bought a drink, sandwich and chips for lunch. I contributed to the tourist trap.



Scotty's Castle - me and 6 other people where there. The wind is still blowing and the sky is looking more ominous.



Looks like a giant chiapet.



I asked the Ranger in the Scotty store, how long to go from the castle north on Death Valley Rd, past Crankshaft and the Mine then out road to Big Pine. He says 3 or more hours but it's mostly dirt. Me, "Okay". Him, "But aren't you on a motorcycle". "Yeah, no problem" I respond. He just looked at me funny and said be careful. I realized later he probably thought I was on a Cruiser or something.



Death Valley Rd. north of the Scotty's Castle. Washboarded, rock strewn, straight lines in the dirt for the most part. The wind was at my back most of the time - best place for it to be. Washboarding Sucks BTW.



Crankshaft Junction. I wanted to ride up the road in the right photo, it looked more fun than the road I was on.



Heading back into the mountains, Last Chance Range, from the northern valley.



An old sulfur mine at the top of the pass along Hanging Rock Canyon. The wind was wiping up that very nasty sulfur laden soil. I didn't stay long or go out toward the mine. On a calmer day I would have like to explore some.



Coming down the Hanging Rock Canyon drops you into the Eureka Valley this include the access road to the Eureka Dunes (which I didn't have time to go see). It also leads to the most northern all vehicle access road to Death Valley. It eventually hooks up with Big Pine Road.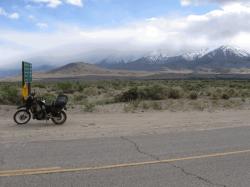 Big Pine Road with the rain clouds still chasing me through Joshua Flats. It leads back to HWY395 and the snow covered high tips of the Sierra range.

At Big Pine I headed north on HWY395 to find some lodging in Bishop (I wasn't in the mood for camping in 25 mph + gusts wind).

I treated myself to an excellent meal at "Whiskey Creek Restaurant, Gift Shop and Saloon"; Santa Maria Style Beef Dinner -- charbroiled tri-tip with tri-peppercorn gravy, fresh asparagus, and yukon gold mashed potatoes. A glass of Macallan single malt with one cube. Finishing with a slice of Butterscotch-Banana Cheescake. All where yummy.

The late meal marked the end of Day 5


Next Up: Day 6 - From Bishop to Home via the Northern Route


---
Day Six - Bishop CA to Home via a North Pass (SR88)
Tracking: http://spotwalla.com/tripViewer.php?id=5393
Map: http://www.westcoastmagnas.com/klr65...dv_day6map.jpg

Click Photos For Larger Versions

The final day of riding. I was up early and on my way. It was COLD and still a little windy. I had a long way to go to get home, so I know I didn't have much time to ride any dirt. I thought it would be best to head into the Sierras right there from Bishop for a while.



Heading towards the white caps directly from Bishop.



On HWY395 just past Mammoth Lakes. Windy freeway riding - yeah. I was already freezing to death in my stupid summer riding gear. I do it every year in May, wear my summer gear whenit's still winter in the mountains. Some day I'll learn.



Went offroad again at Mono Lake - I wanted to sepnd sometime riding around it - but I came across creek crossings in every direction I tried.



And most were CREEK crossings. I had too much highway riding in the cold and wind to risk getting my boots, jeans and mesh jacket wet in a nearly successful crossing.



Some of the stuff Mono Lake is known for. (Tioga Pass 120 was closed or I would have taken it)



A memorial to Fire Fighters fighting in the wilds.


Walker Burger in Walker CA, just north of the HWY108 Sonora Pass turnoff. (The 108 pass was closed or I would have taken it). This was the best burger and fries I've had in a long time. And as a meal, it was even slightly better than the fairly expensive meal I had in Bishop last night!



Walker Burger had only out door seating, but very pleasent surroundings it was. They even supply picnic blankets if you wanna spread out on their grassy area. I definitely recommend Walker Burger.



From SR89, Monitor Pass and it's open - it's higher than 120, 108, and 4 which were all closed. So when I hit the T I had to go the 88 direction cause 4 was closed by snow.



Lake Calpers along SR88. Still frozen over, but looking might pretty. And I'm still freezing, but the wind has finally eased a bit.



There was still plenty of snow over the 88 Pass. It wasn't on the main NWY88, but almost all side street were still coasted with the white stuff.

I turned south on to HWY 49 from the 88. I jumped over to Pool Station Road just above San Andreas. This allows you to miss some of the congestion on HWY49. Passed through Copperopolis & Jamestown, where after taking Jacksonville Road I crossed the 49 again.

I ttok a quick back road ride over Kelly Grade, a little road I like even on my street bikes. That dumped me onto 132 - which led me right back to home.



Home just after dusk - like I planned it or something. Looks the same - just dirty.

It was a heck of a trip!!!


Next up: Some final thoughts and discoveries.

---
Post Ride Recollections
Tracked Ride: http://spotwalla.com/tripViewer.php?id=5393
Map: http://www.westcoastmagnas.com/klr65...adv_dayall.jpg


Total Mileage: 1565.8 miles
Days: 6 total; 5 riding days with one lounge around Vegas day
Lowest Point: -282 feet below sea level at Badwater, Death Valley
Highest Point: 8650 ft Carson Pass on HWY88 - but I went between sea levelish to 7 to 8 K ish multiple times

Inspiration: I had to go to Vegas for the PMOY 2010 Party to report on it. That's a long way to go for 2 hours. So I turned it into a multi-day dual-sport motorcycle ride. The PMOY at the Palms got turned into the equivilent of stopping to see the Worlds Largest Ball of Twine. Well, kinda. Prettier twine.

Disappointments: I would have liked to ride more dirt; Chimney Basin, Ridgecrest, DV, Bishop, Mono, Monitor - all had great roads I could see, but didn't have time to ride.

The Mistake: Because I "had" to be somewhere, I wound out passing up tons of roads and trails I saw along the way. And I wanted to ride them all. A schedule and a place to be messes that up. Of course if I didn't need to be in Las Vegas - I probably would never have got past Kernville in 6 days.

Coldest: Day 6, HWY 395 from Bishop to Monitor Pass (89) - my throttle hand was actually shivering.
Warmest: Day 3, in Death Valley from Stovepipe to Furnace Creek section - 98 degrees. (DV on Day 5 didn't break 85)

Best Meal: Day 6, Walker Burger in Walker CA along HWY395 - $9
2nd Best: Day 5, Whiskey Creek in Bishop CA - $35
3rd Best: Day 1, Kern River Brewing Company in Kernville CA - $18
Worst Meal: Day 5, Pre-packaged tuna salad sandwich, bag of Fritos and a Grape Gatorade in Furnace Creek General Store tourist trap - $10

Best Lodging: Kern Lodge in Kernville CA

Sucky Stuff: Washboarding and Wind - Summer weight gear in winter conditions (what a maroon)


Motorcyle Related

Needs!!: I've got to do something about my rear AND front suspension! Mainly the rear cause it bottomed out a number of times when in the dirt.

Probelms or Breakage: Rock to the headlight, cracked glass. Fastener bolt on the right plastic shroud disappeared. That's it!

SPOTII: Worked great. Friends and family actually enjoyed following my status during the ride. (plus eveyone felt better, including me, about my adventures into lonely dirt places)

New Additions Before Trip: The new home built Rear Deck worked flawless, better than expected. My tool tube worked exactly as expected, thanks to all the examples from other KLR650 members.

Tires
Front: the brand new MT21 on the front preformed great on street and dirt - really like it. Totally comfortable on it. Minimal vibration.
Rear: the Kendra 270 rear preformed well on the dirt, still not a fan on the street in high-speed or twisty situations.

Fuel Mileage: Averaged 50 MPG

Zombies: Glimpses of 1 in Kernville, 2 near Crankshaft Junction in DV - and of course, Vegas was full of the Living Dead






There are no images in this gallery.





---
© Copyright 2015 Keith E WIlliams
All Rights Reserved