Over the long 4th of July weekend I got in some awesome riding. Most of it in the Sierra National Forest.

SPOT Track on Spotwalla
Map and Pics on SpotAdventures (Pics are placed by location on the map)

Click The Pics For Larger Versions

I left on early Friday, and rode the slab for a while and then headed east near Chowchilla (most famous for the school bus kidnapping) and took lonely back roads through the dry foothills. I found some easy dirt roads to get me over to North Fork where I stopped in to get some permits at the Pinecrest/Bass Lake District Ranger Station for the Sierra National Forest in North Fork.

There I talked with one of the most beautiful women I've ever seen. I walked in the station door, where a couple of big ranger dudes were helping other people and she turns around and says, "How can I help you?" And I stood there stammering like the dipstick I am. I finally found my voice and told her what I wanted and asked my questions. And asked more questions. Then asked more questions. She answered everything completey, smiling and animated. By this time the other "campers" had left so it was just her talking with me staring and listening (and the rangers grinning behind her). I had run out of reasonable questions and the conversation was coming to an end. I must have had a look of disappointment on my face. One of the rangers, with a wink and big grin, asks, "Did you tell him about all the cool stops along the Scenic Byway?" "Oh, no, I didn't." she says, and launches in to ten minutes more. That grinning ranger has my heartfelt thanks.

I couldn't come up with a non-pervy way to get a photo of her, in the station or modeling with my KLR. Sorry. I'll go back and try again soon - just for my KLR friends.

Anyway, back to the ride.

Headed up Beasore Rd (they pronounced it Bay Shore). My first stop was at Globe Rock - I'll let you figure out why they call it that.



Portuguese Overlook looking over Sierra Nat. Forest land



A random road I followed for a bit. The weather and temperature were perfect as I rode through this amazing forest



Jackass Meadows at 7K feet. Beautiful and moist. I rode a little into it - eventually turing back to avoid getting stuck. It was so quiet and serene



I rode to the upper reaches of the Sierra Nat Forest, bordering on the John Muir Wilderness to visit Clover Meadows and Granite Creek. I got to ride some amazing dirt tracks here too. Sorry no pics.

The overflow at Mammoth Pool. There is so much water in the Sierras right now. Nearly all the lakes, rivers and streams are full or even overflowing. Many meadows are soaked through and creek crossings are more like river crossings.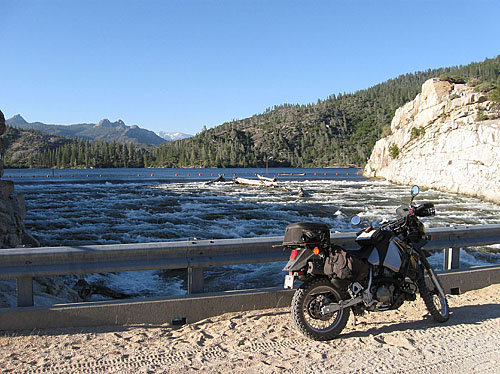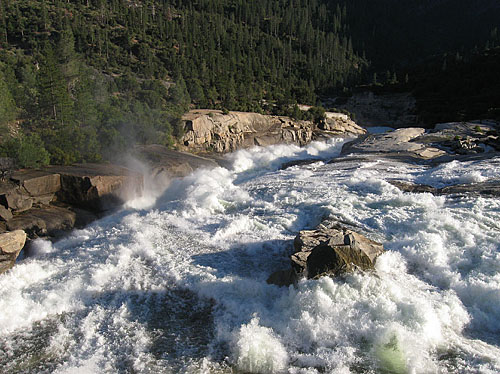 I camped out for the first time in about 15 years. It was fun and I totaly enjoyed it. Stayed at the Soda Springs campground instead of the wilderness for this first time. Just seemed like a good idea. One thing of note, Mummy Bags Suck. Looks like I'll be replacing my brand new (cheap) mummy. Woke up constantly in a panic feeling trapped.



Redinger Lake Overlook 3320 feet



The exact center of California - located along Italian Bar Road (Rd 225)




Bridge and boats at Redinger Lake



Old Railroad Grade Road, looping up an through the mountains heading for Huntington Lake. You can see the previously travelled portion of the road in the back ground. Never did see any sign of a railroad though.



Much of this canyon and many of the lakes in this area are used in California's extensive hydroelectric power system. You randomly come across facilities and pipes in the middle of nowhere.



I like the forest - cool and calm.



Lake Thomas A Edison. A small lake located on a tiny finger of Sierra National Forest land surrounded by the awesomness of the John Muir Wilderness



Looking out southwestish at the John Muir Wilderness



The road I'm travelling, Kaiser Pass Road



Near Mono Hot Springs - poeple trying to kill themseleves via fast moving creek/river



John Muir Wilderness - looking northwest this time



From here, I rode back into civilization at Shaver Lake where I spent Saturday evening and Sunday with relatives at their Shaver cabin. Enjoyed their company and ridiculous amounts of food and drink. My parents even joined the party. Shaver put on a great fireworks show!

I road back to the central valley that evening, watching several fireworks displays as I exited the mountains and proceeded up the valley. It was a warm pleasent evening to be riding.

Monday was a quick ride up to Greely Hill. Where there is a FREE hidden cache of KLR trinkets if you can find it. Read

Then it was over.

Thanks for reading.





There are no images in this gallery.





---
© Copyright 2015 Keith E WIlliams
All Rights Reserved